Digital Advertising With PPC Ads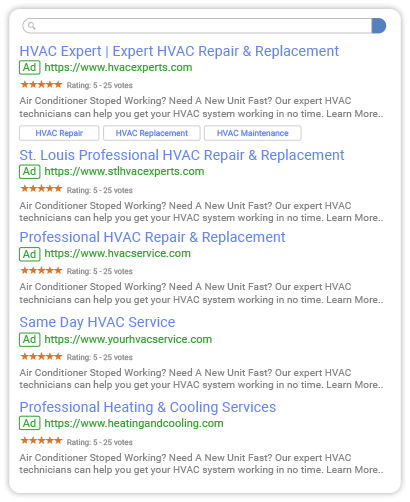 You will always see advertisements on your search results page when conducting an online search for a service or project. Digital advertising is everywhere; from search results to videos to social media, getting your service or product in front of customers is easier now than ever. Our team has years of experience and will help you set up and manage digital marketing campaigns for your business. With the help of Google AdWords, in-depth analytics and real-time search data, and continuous testing to improve your pay-per-click advertising, you'll reach your goal in no time and grow immensely. We can help put you at the top of the page every time a potential customer searches for your services or products.
Personalized Setup & Management
Our marketing team works one-on-one with you to determine your business goals and needs when designing your custom advertising campaign. This includes determining the target locations, ideal customer, monthly budget and much more. Our team strives to bring you the most effective strategy, specific target keywords and phrases for your specific advertisement, and the utilization of analytics and results to determine how your strategy can be optimized to its greatest potential.
Our PPC Management Process
1. Understand Your Goals
Understanding your business goals will help our team at Garrow Media create an advertising campaign that is custom-tailored to help you reach them. Is your success measured in leads, sales, or brand awareness? Our team will work with you to ensure a deep understanding of what you are trying to accomplish online. Are you launching a new service or product that requires adjusting your target market? Perhaps, you are hoping to tap into the thousands of searches happening for your service or product already. All of our clients come to us searching for more business – and we work to understand how your company views success.
2. Analyze Historical Data
Any existing website and advertising data can help our team uncover areas of focus that can help your advertising campaigns reach more qualified customers. We will analyze your analytics, CRM data, and even discuss with you what type of client you work for most. This will help us deliver the best ROI or return on investment for your digital advertising campaigns.
3. Restructure / Setup
Creating your digital advertising account correctly is one of the most critical factors in any Google Ads and Bing marketing campaign. Setting up campaigns, ad groups, and keywords properly will help your campaign deliver the best ad for any search every time. Our account setups are guided by hundreds of successful digital advertising campaigns across a variety of industries. Our team often re-structures or completely builds a new campaign and strategy when starting work with our clients.
4. Ongoing Optimization & Reporting
utting in the work upfront is only the beginning of running a well-optimized and targeted digital marketing campaign! Ongoing optimization and report analyzation are vital when it comes to managing a successful campaign. Our team works regularly to provide updated ads, strategies, keyword lists, and more. This helps you reach customers that are ready to convert on a more regular basis. This allows you to spend less money on ads to get more leads.
Contact Our Experts For PPC Management & Digital Advertising
We want to be your partner online. Our goal is to drive new customers to your business and provide a sustainable and reliable online sales source for your company. If you have any questions about our digital advertising services, don't hesitate to contact our experts. You can reach us by calling 314-984-8880 or by filling out our online contact form.