Social Media Management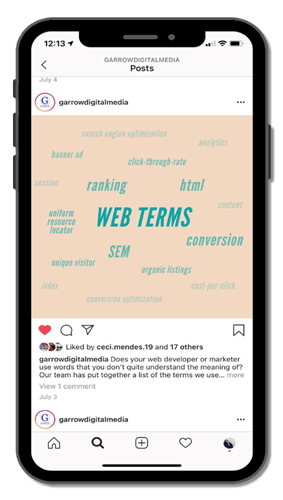 We are attached to our phones, computers, and mobile devices in today's world. It is reported that the average American has at least seven social media accounts and spends almost three hours on social media networks every day. More importantly, over half of the businesses are using social media advertising to their advantage. The social media advertising movement is growing exponentially, if your business is only using conventional internet marketing and has started using social media, there is no better time than now to get started.
In today's day and age, a company with no social media presence could be missing out on a huge potential market. Thousands of users visit Facebook, Instagram, and other social platforms every day. Reaching these potential customers can be as simple as regularly posting on your pages. Our team at Garrow Media offers a comprehensive social media program designed to build your brand recognition and local presence over time. Our social program consists of managed social media posts across a variety of platforms targeted at engaging potential and existing customers within your community.
Our social media management process starts from gaining access to previous social accounts or creating new ones, to creating brand books to keep your brand consistent, to strategy sessions with a social media manager, to planning and posting content that visually represents your company. This content can be custom created graphics, GIFs, social media stories, and more. We also provide detailed analytics on each individual social platform.
Once your branding is consistent across all available social media platforms and a content calendar has been implemented to grow your influence, we can evaluate the potential need for digital advertising to further improve your position on those platforms.

Get Started Today With Managed Social Media
Our team can help you with a managed social media campaign promoting your services and products. Now more than ever social media is a major part of promoting your business. Millions of people every day log into Facebook, Instagram, and other social media platforms. Our team can help you stand out online with managed social media and social media ads. Contact our experts today to get started.
Social Media Paid Advertising
Along with regular management of social media accounts, we offer management of paid advertisements on a variety of platforms. This type of advertising focuses on reaching and growing a specific target audience, building engagement, and selling the product of your company.
With social media advertising, you can specify demographics, psychographics, enhance brand awareness, maximize your content marketing, collect market insights and more. To see if it is truly making a difference for your business is to analyze the statistics provided through your social media advertising. The proof is in the results.
Contact Our Experts for Social Media Advertising
Our team at Garrow wants to be your partner for web design, web development, and social media marketing. Our goal is to drive new customers to your business and provide a sustainable and reliable online sales source for your company. If you have any questions about our social media strategy or marketing services, don't hesitate to contact our experts. You can reach us by calling 314-984-8880 or by filling out our online contact form.