Hand-Crafted Website Designs & Marketing Solutions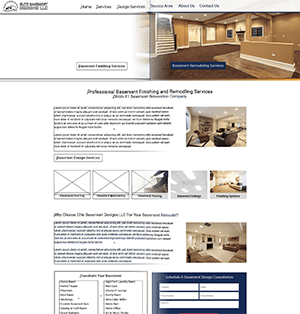 Let's be honest about web design for a minute. Your end goal as a business owner is to look for a tool that will help you accomplish your specific business goals, not to build a website. Having a well designed and optimized website will be a great tool to help you reach those goals.
Our team at Garrow Media is a full-service web agency with in-house website designers who have built websites for almost every industry imaginable and a client base that extends throughout the United States. Our goal is to partner with your company to produce a website that aligns with the services you offer and the goals you wish to accomplish.
How Great Web Design Can Help You Accomplish Your Goals
In truth, there are a variety of goals that your website will be built to accomplish. These goals may include lead generation, referral validation, product sales, brand awareness, and much more. When it comes to designing a website for your business, our in-house design team takes into account your goals and works with you to design a website that will help you accomplish those.
Take a look below to learn more about some of these goals and how each might have a different design.
Lead Generation
When you run a business that relies on a constant flow of new customers, it is important that your website design is focused on converting users while also ensuring that potential clients who are in need of the services you offer are able to find your website. A website design that focuses on lead generation may include more Call-To-Action buttons (CTA's), where users on your website can either click to call your business or fill out a form to get in touch. These conversion points will help you turn more visitors into customers. In addition to this, a strong focus on search optimization will help your potential customers find your website when searching for the services you offer.
Learn More About Search Optimization
Product Sales
We all know running an online store is no small feat. With inventory management, sales, and shipping on your plate, business owners have little to no time to focus on the look and feel of their website. Our team will help you design a website that showcases your products, runs efficiently, and generates sales. In addition to this, search optimization will help your online store show up higher in search results for the products you offer. These designs typically focus on having a clean and consistent sales funnel. What we mean by this is that E-commerce sites should be designed in such a way that the user can easily find the product they are looking for and can be guided through checkout in a simple process.
Learn More About E-commerce Development
How Mobile Traffic Can Affect Your Website Design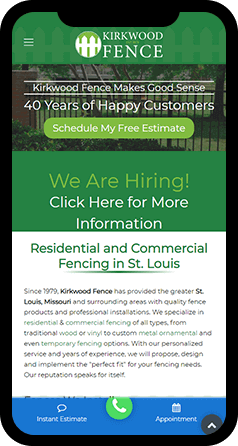 Did you know that over 60% of all traffic on the internet is driven by smartphone searches? This means that without a properly responsive mobile website, you could hurt your chances of converting a potential customer. Our designers know this and focus on developing websites that perform well no matter what device a visitor is using to access your website. In addition to this, there are a number of factors that our designers consider including mobile CTA's, brand consistency, and ease-of-use when developing a site for both mobile and desktop platforms.
Our Web Design Service
In most cases your website is the first impression that your company will have on many potential clients. Our team understands that you need a website that represents your brand and your company well. This is only part of the reason why we design and build our websites to be fully customized. What this means for you is that you won't end up with a website that is template-based and may look like any other companies website on the internet. We will create a fresh, new experience for your users that will help your business grow to new levels.
We want to be your partner for web design, web development, and search optimization. Our goal is to drive new customers to your business and provide a sustainable and reliable lead or sales source for your company. If you have any questions about our design process or are in the market for a new website, don't hesitate to contact our experts. You can reach us by calling 314-984-8880 or by filling out our online contact form.